Crosby promoted to Account Executive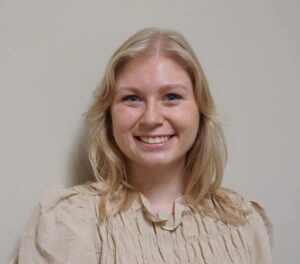 Pioneer Strategies has promoted Kelly Crosby, a Wilson native and graduate of Appalachian State University, to account executive. Crosby joined the company as an account coordinator in September 2021.
"It's hard to believe Kelly has already been with us for a year," said Frank Williams, President of Pioneer Strategies. "Kelly is an organized, detail-oriented account leader who helps ensure that our clients receive the service they expect, when they expect it. She has continually worked to strengthen her skills and broaden her knowledge over the past year, and we look forward to her playing an increased leadership role in our growing firm."
"It's been a rewarding year as part of Team Pioneer," said Crosby. "I'm excited to continue learning and developing new skills in my role as Account Executive while providing our clients with responsive service that helps them achieve their business and communication goals."
Kelly Crosby is a native of Wilson, N.C. and is a graduate of Appalachian State University with a Bachelor of Science in Public Relations. She is a member of the N.C. Public Relations Society of America (NCPRSA), Port City Young Professionals (PCYP) and is an affiliate member of Association Executives of North Carolina (AENC). Kelly lives in the heart of downtown Wilmington with her cat, Bubba.