Zach Drennan promoted to Senior Account Executive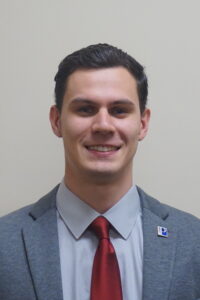 Zach Drennan, who recently celebrated two years with Pioneer Strategies, has been promoted to Senior Account Executive. With this new position, Zach will have additional account leadership and company leadership responsibilities.
Drennan specializes in the creative side of strategic communication, regularly producing videos and graphics in addition to written work and web content. He has assumed increased leadership responsibilities during his tem with the company. Prior to joining Pioneer Strategies he worked as multi-media communication specialist for theArtWorks™, an art gallery, art village and event venue in downtown Wilmington's South Front Street district. Drennan grew up in Wagram, N.C. and is a 2014 graduate of Scotland High School in Laurinburg. Zach and his wife, Brianna, live in Pender County between Burgaw and Rocky Point.