Williams installed as NCPRSA President, Drennan joins board of directors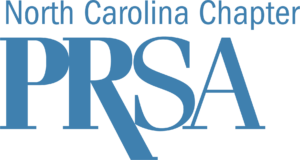 Pioneer Strategies' president and founder, Frank Williams, was recently installed as the 2023 President of the N.C. Chapter of the Public Relations Society of America (NCPRSA). Zach Drennan, senior account executive with Pioneer Strategies, also joined the NCPRSA board of directors as communication chair.
"It is a tremendous honor to work with such an accomplished group of public relations professionals," said Frank Williams, 2023 NCPRSA president. "Our chapter closed out 2022 with membership growth and a successful, well-attended conference. This year, we aim to provide even more opportunities for our members to connect with and learn from each other. Additionally, we plan to bring NCPRSA to our members by hosting events in multiple areas throughout our coverage area, which runs from Greensboro through Raleigh to the coast. We invite all public relations and strategic communication professionals in this area to join us."
The Public Relations Society of America (PRSA) is the nation's leading professional organization serving the communications community. PRSA is the principal advocate for industry excellence and ethical conduct and provides members lifelong learning opportunities and leading-edge resources to enhance professional connections and support them at every stage of their career. With nearly 30,000 members, PRSA is collectively represented in all 50 states by more than 110 Chapters and 14 Professional Interest Sections, and on nearly 375 college and university campuses through its student organization, the Public Relations Student Society of America (PRSSA). For more information about the North Carolina Chapter of PRSA (NCPRSA) or to view a full list of 2023 officers and board members, please visit https://ncprsa.org.